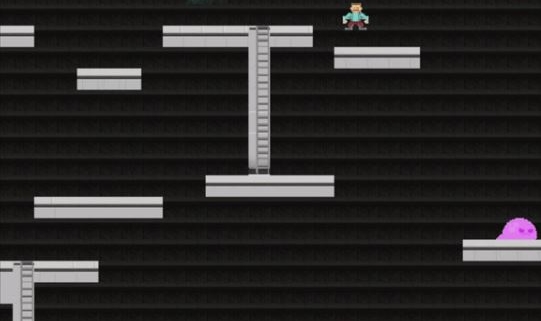 The group around Tom GRIFFITHS *) from the Cognitive Science Lab at Berkeley recently asked in their paper by Rachit Dubey, Pulkit Agrawal, Deepak Pathak, Thomas L. Griffiths & Alexei A. Efros 2018. Investigating Human Priors for Playing Video Games. arXiv:1802.10217:  "What makes humans so good at solving seemingly complex video games?".
(Spoiler short answer in advance: we don't know – but we can gradually improve our understanding on this topic).
The authors did cool work on investigating the role of human priors for solving video games. On the basis of a specific game, they conducted a series of ablation-studies to quantify the importance of various priors on human performance. For this purpose they modifyied the video game environment to systematically mask different types of visual information that could be used by humans as prior data. The authors found that removal of some prior knowledge causes a drastic degradation in the speed with which human players solve the game, e.g. from 2 minutes to over 20 minutes. Their results indicate that general priors, such as the importance of objects and visual consistency, are critical for efficient game-play.
Read the original paper here:
https://arxiv.org/abs/1802.10217
Or at least glance it over via the ArxiV sanity preserver by Andrew KARPATHY:
https://www.arxiv-sanity.com/search?q=+Investigating+Human+Priors+for+Playing+Video+Games
Videos and the game manipulations are available here:
https://rach0012.github.io/humanRL_website
*) Tom Griffiths is Professor of Psychology and Cognitive Science and is interested in developing mathematical models of higher level cognition, and understanding the formal principles that underlie human ability to solve the computational problems we face in everyday life. His current focus is on inductive problems, such as probabilistic reasoning, learning causal relationships, acquiring and using language, and inferring the structure of categories. He tries to analyze these aspects of human cognition by comparing human behavior to optimal or "rational" solutions to the underlying computational problems. For inductive problems, this usually means exploring how ideas from artificial intelligence, machine learning, and statistics (particularly Bayesian statistics) connect to human cognition.
See the homepage of Tom here:
https://human-centered.ai/wordpress/wp-content/uploads/2018/07/why-are-humans-so-good-at-playing-games.jpg
387
541
Andreas Holzinger
https://human-centered.ai/wordpress/wp-content/uploads/2019/09/hcai.png
Andreas Holzinger
2018-07-24 19:02:14
2018-07-24 19:06:28
Investigating Human Priors for Playing Video Games